Frost Bank Ranks Highest in Customer Satisfaction in the Texas Region for a Fourth Consecutive Year
Highest scores in Facility, Product Offerings, Account Information, Fees, and Account Activities
For a fourth consecutive year, Frost Bank ranks highest in the Texas region in the J.D. Power U.S. Retail Banking Satisfaction Study,SM and achieves the highest score in five study factors. Frost not only earns the highest scores in the Facility, Product Offerings, Account Information, Fees, and Account Activities factors, but also earns the highest scores in four Account Activities sub-factors: Branch, ATM, Online, and Live Phone.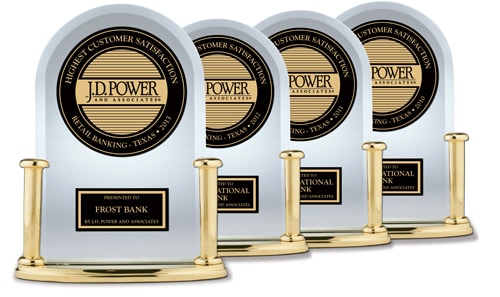 Branch and Facility Performance Are Keys to the Success of Frost Bank
Branch performance is a critical advantage for Frost. According to the 2013 U.S. Retail Banking Satisfaction Study, a high percentage of customers indicate they were greeted as they entered the branch (93% vs. 86% region average), and 71% indicate they were greeted by name. Furthermore, branch wait times at Frost (2.3 minutes) are considerably shorter than the region average (3.1 minutes).
Despite having a lower density of conveniently located branches than the region average (2.5 vs. 2.8, respectively), Frost Bank customers are highly satisfied with branch hours of operation (8.45 vs. 7.87 region average, respectively, on a 10-point scale). Also, Frost enjoys a much higher rating than the region average in Appearance of branches (8.88 vs. 8.27, respectively), which is the leading driver of satisfaction in the Facility factor by a large margin.
---
2013 Retail Banking Satisfaction Study
Customer Satisfaction Index Ranking: Texas Region
(Based on a 1,000-point scale)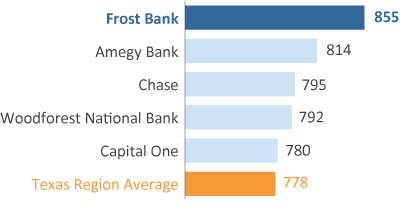 Other banks in the study include (in alphabetical order): Bank of America, BBVA Compass (Compass Bank), Citibank, Comerica Bank, International Bank of Commerce, Prosperity Bank, Regions Bank, Wells Fargo.
Source: J.D. Power 2013 U.S. Retail Banking Satisfaction StudySM
---
Product Offerings Are Tailored to Meet Customer Needs
In addition to its branch performance, Frost Bank excels at keeping customers informed about the products and services it offers. According to the study, more Frost customers indicate that the bank communications they receive are tailored to meet their needs, compared with the region average (72% vs. 55%, respectively). Using a tailored communication approach, Frost outperforms the region average in customer understanding of features and benefits, with 54% of its customers saying they "completely" understand. Frost also has substantially higher ratings than the region average for Effectiveness of communicating new banking products and services (7.85 vs. 6.97, respectively) and Variety of services available (8.31 vs. 7.63), two key attributes in the Product Offerings factor.
Frost Bank Delivers a Strong Value Proposition
Frost Bank achieves the highest satisfaction score in the Fees factor (753 vs. 633 region average). More Frost customers consider their bank's minimum balance requirement as being reasonable, compared with the region average (74% vs. 58%, respectively). Also, Frost's website provides clear information regarding fees, allowing customers to build a package that best suits them. The bank excels at providing stable fee structures, compared with the region average (95% vs. 85%, respectively), and customers have a much higher understanding of the fee structure than average (50% vs. 34% "completely" understand).
About the Study
The 2013 U.S. Retail Banking Satisfaction Study is based on responses from nearly 52,000 retail banking customers of more than 120 of the largest banks in the United States regarding their experiences with their retail bank. The study, which measures satisfaction with retail banks in 11 regions, was fielded in January and February 2013.